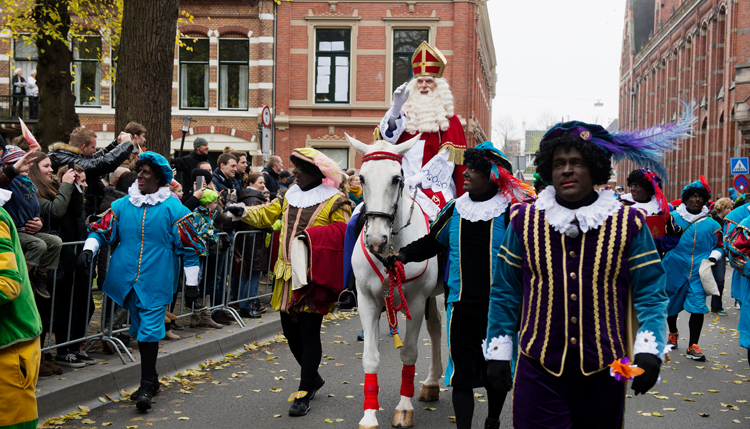 The wonderful storyworld of Sinterklaas
In the Netherlands each year in mid-November thousands of children await the arrival of a steam boat from Spain. On deck are an old Saint, wearing a long red cape and a mitre, and his helpers, all referred to as 'Piet'. Sinterklaas has arrived! It's the start of a joyful time living up to the actual holiday on 5 December. The world of Sinterklaas is an exceptional piece of storytelling in which (almost) every Dutchie participates.
Saint Nicholas is surrounded by lots of stories and traditions. He is said to ride his white horse over the rooftops at night to bring presents and treats. Kids will sing Sinterklaas-songs before they go to bed, because they believe  Piet will come through the chimney and leave the little presents in their shoes. On 5 december the family comes together to celebrate 'pakjesavond', gifts night. If Sinterklaas is not able to visit, he will knock the door and leave a bag filled with gifts just outside.
On television a daily 'news' show reports about the Saint and his preparations for the big day. Parents, teachers, retailers and even politicians all play along. This year 'Messy Piet' is seen on the show leaving tracks of mess and 'pepernoten.' Kids are astonished to see the same things happening in their classroom and their own home.
Sinterklaas and his Pieten can be found anywhere, in films and books, on television and on the streets. A few days ago I saw a group of Pieten doing tricks on a trampoline, when one of their wigs fell off. A mother jumped from the audience and sat on his head to save the situation. That's how much we love them. In the Netherlands, THIS is the most wonderful time of the year.