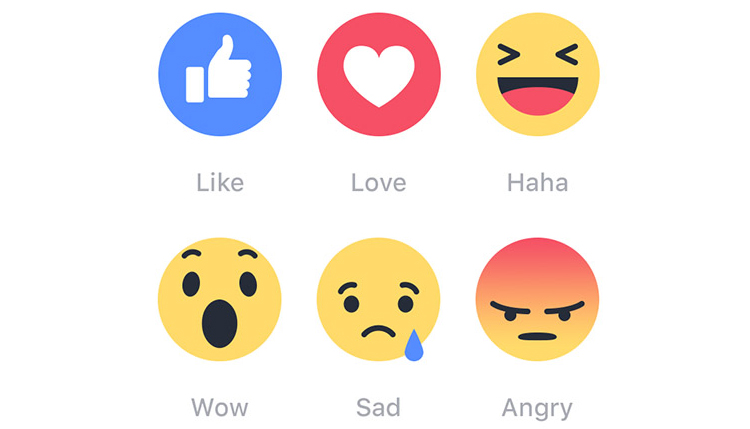 1
Like heeft concurrentie
To like or not to like? That used to be the question. Zo simpel kon het zijn. Tot vandaag, want Facebook maakte maar liefst 5 nieuwe reacties wereldwijd beschikbaar. En nu hebben we naast like ook nog love, haha, wow, sad en angry, "to allow people to express a deeper range of emotions." Onze digitale persoonlijkheden moeten evolueren. Het tijdperk van de domme like-robots is voorbij, we zijn nu intelligente wezens die daadwerkelijk op de inhoud van een bericht reageren. Of niet?
Het liken van een bericht was jarenlang het universele gebaar voor in pincipe alles. Het betekende niet alleen vind ik leuk, maar ook vind ik grappig, ik ben het met je eens, ik begrijp je, gefeliciteerd en zelfs gecondoleerd.
Nu niet meer. Een verdrietig bericht leuk vinden kan niet meer. En een leuk bericht leuk vinden eigenlijk ook niet. Een like had sowieso vrij weinig waarde, maar met de komst van de 5 nieuwe uitingen is de like gedegradeerd tot de 'nice try' onder de reacties. Niet grappig, niet geweldig, maar gewoon leuk.
Overigens maakt de Nederlandse vertaling het nog moeilijker om de juiste reactie te kiezen. Love is een reactie die in het Engels prima gebruikt kan worden als steun op moeilijke momenten. Maar love is in het Nederlands vertaald als 'geweldig', en die reactie is toch vrij ongepast bij bijvoorbeeld een sterfgeval. Ach, van je Facebook-vrienden moet je het hebben.
De nieuwe reacties zouden Facebook persoonlijker maken. Maar mensen zullen (nog) minder vaak zelf reageren op een post, omdat ze denken dat hun kant-en-klare Facebook reactie genoeg zegt. Dus niet. Er zijn 120 verschillende feelings die je kunt toevoegen aan je eigen post. Blijkbaar vinden we deze een stuk interessanter en belangrijker dan die van een ander. Haha, wow, that's sad.