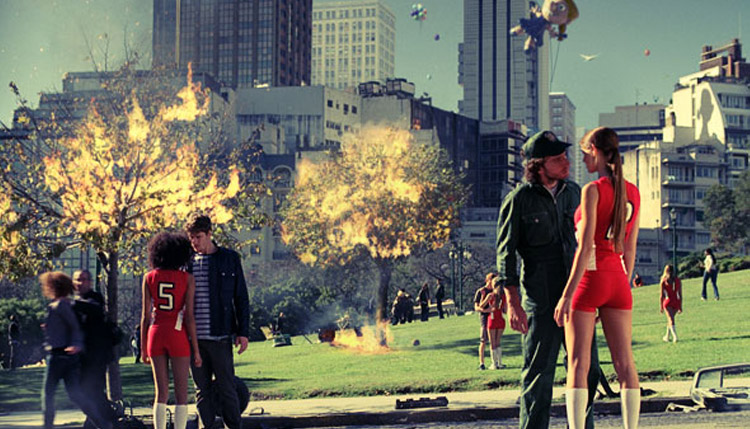 Anarchy strikes with Axe
The new Axe campaign is one you can't miss. Axe Anarchy for him and her are so tempting that groups of people spontaneously started snogging in public. Axe is telling us an exciting brand story that creates a mayhem in the Netherlands.
'Start the chaos', that's what the campaign for the deodorant-brand is all about. And a chaos it was. Lots of Dutch bloggers mocked Unilever (who owns Axe) and advertising agency Reddion when they discovered that the companies tried to trick the audience. Recently the unprecedented Axe commercial was published on an amateurish little blog. The commercial, which was supposedly leaked, was of course posted on the internet by Axe. They also tried to let writers do their dirty work with no compensation and they violated portrait rights. Some people felt betrayed, and wanted the whole world to know. That's not necessarily a bad thing for Axe. The two articles on GeenStijl alone must have generated a considerable number of visitors. There's no such thing as bad publicity.
Enough gossip, time for serious business. The story begins some time ago with 'Anarchy, the graphic novel', which I think is the worldwide launch of Anarchy campaigns in different countries. It is an online comic about the origin of the Axe Anarchy scents. Readers get involved via Facebook, Twitter and YouTube and it's interactive. Fans can affect the story and there is even the possibility to become a character. The branded YouTube channel is really worth a visit. It is gutsy and sexy and it fits the concept.
In the Netherlands 'Start the chaos' really comes to live at the press launch of the new Axe Anarchy fragrance for her. It creates a 'complete chaos', people start kissing spontaneously as actress Gigi Ravelli tests the product.
This is actually the same Gigi who campaigned for sexier hair earlier. Together with her ​​friends, she walked through the city with signs: 'Unkempt hair = no sex.' As some kind of Pied Piper Gigi led the boys to a store, which' just happened' to have the Axe hairstyling products already waiting.
But Gigi is not the only Dutch celebrity starring for Axe Anarchy. Vloggers Teske and Dylan both made a movie about the question: 'What if there was an Axe fragrance for girls?' The fact that they were paid to make these videos is not that obvious. And it works. Viewers try to find the product online en report back to the bloggers: "Wajoh, you can predict the future! There really is Axe for women (:" No shit, Sherlock.
At the launch on February 25th in Rotterdam Gers Pardoel and Keizer performed a show. The busy square turned into a big mess as the Axe scents are tested. Everyone starts to kiss. Even agents (read: models in uniform) can not resist the aphrodisiac scents. It's really just a flashmob. Pharmacy Kruidvat turns into a big chaos in as all the people want to buy Axe Anarchy. It's no biggy, since it's always a chaos there.
The weekend was reported in detail on the front pages of Dutch newspapers. By Axe, that is. They wrote their own articles on the front-page take-overs. There was no warning that it was an ad, but come on guys…
In Amsterdam there were massive snog-parties as well. Kissing people stopped traffic and pictures appeared on yesterdays front page take-over and on Axe' Facebook. The Facebook page is not what it could be. It actually affects the acquired image.
I'm curious what chaos still awaits us. Where will it strike next? Some things about "Start the chaos" are very strong, like the comic and the live events. But there are some things that can be improved, the Facebook page is at the top of that list. I think Axe made a very smart move to engage women with their brand. They have worked for years to build their domain "seducing women with a wink" and now they do the opposite for once. Cool!
-UPDATE april 20–
Axe announced yesterday that Anarchy Axe for women will be pulled back from stores. According to Unilever Axe's mutual effect got completely out of hand. What a stunt! Bringing your new women's brand on the market with a lot of fuss (and a lot of money) and then simply get the product off the shelves. An exciting strategy. It states that Axe is a men's brand, and it will remain that way.
In the past weeks there were a few cool chaotic situations. During the live broadcast of a Dutch talkshow couples in the audience began to snog. The producer could not appreciate the stunt and immediately took legal action. Yet it is questionable whether they can sue Axe, since they didn't use the name of the brand. So it was not clear advertising.
The last batch of the women's fragrance is going to be even more popular, because if something is scarce, we all want to have it. Also, several videos and messages stated not to buy Axe Anarchy. And we all know, if people are told not to do something, then they jump right in to do it. Quite clever.