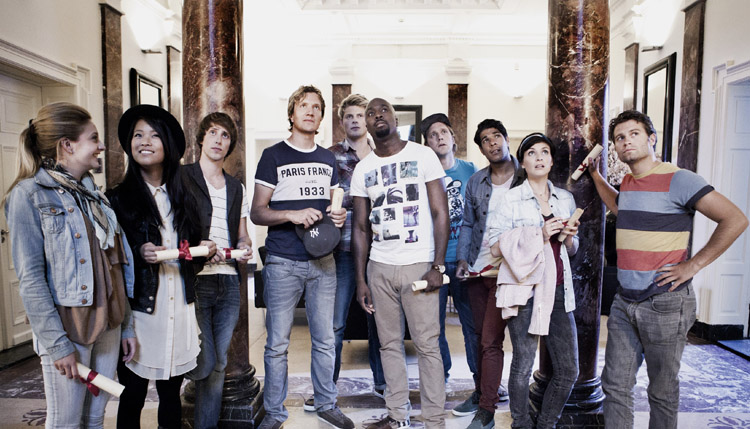 The Zappendael Case, an interactive detective
During a secret dinner on Zappendael estate Tim Douwsma drops down dead. His soup turns out to be poisoned. This is the beginning of The Zappendael Case, a classic whodunit with a modern twist. Viewers can join the online search. Who killed Tim? The game is on.
There were ten other zapp-presenters who attended the dinner. One of them must have killed Tim Douwsma. Count Titus wants no police on his estate, so we must solve the case ourselves. Whoever proves not to be the offender may go home. This leaves fewer suspects every week. But the Count and his cook Klaar are also behaving quite strange, maybe they have something to do with Tim's death.
Every Tuesday, Thursday and Saturday a piece of the story is shown on television, but the interaction starts with the online game. On www.zappendael.nl players can take a look at the estate. By answering questions and solving puzzles they can gather more evidence about the case. This includes videos, pictures and sound recordings. You can also specify who you suspect every week and who you think is undoubtedly innocent.
There are also a number of other storylines that raise questions. Why won't the count let police on his estate? And why is there a bloody sweater in his barn? Who taught Jean-Baptiste, Klaar's parrot, all those weird messages? And where did the corpse of Tim go? Did he rise from the dead or is he secretly alive ?
The combination of television and Cluedo is not entirely new, but I think the NCRV has made The Zappendael Case a very good project. It is the first time that they made such a large transmedia concept for kids. The story is very well written and it continues to be exciting until the very end. On the website children speculate a lot: "It's Sascha Visser. I always knew something was not right with him. You see in the first episode that Sascha gets no invitation and he was shocked when he heard that Tim was still alive. That's very suspicious." But Checkpoint's Klaas van Kluistrum is also still a suspect: "It's Klaas, everybody can see that. He was in the herb-garden and he said: "I didn't want to kill you."" You can see that the story is very much alive with the audience and that they try to find out the truth together.
Here and there I see a few thing that could be improved. The puzzles on the site are not very distinctive. This really should be more innovative. As you often see with this kind of transmedia projects it's always a game of memory, a slide puzzle or a simple multiple choice question. Even though the crucial moments when someone can prove his innocence, are very suitable for participation. For example, there is a moment in which the fingerprints of the suspects must be compared with that of the perpetrator. This would have been a really nice job for the players, but unfortunately the answer is given by Count Titus in the same episode.
I also think that the interaction design of the website can be improved a lot. It is difficult to understand in what order you should view things, revealing information too early. However, not all the pieces are in place yet and it is not yet sure how it plays out. Nine presenters already left Zappendael estate. Sascha, Klaas, Titus and Klaar are still there. Who killed Tim? The exciting denouement of the murder mystery will be revealed in Zapp Live by KRO-NCRV next Saturday.